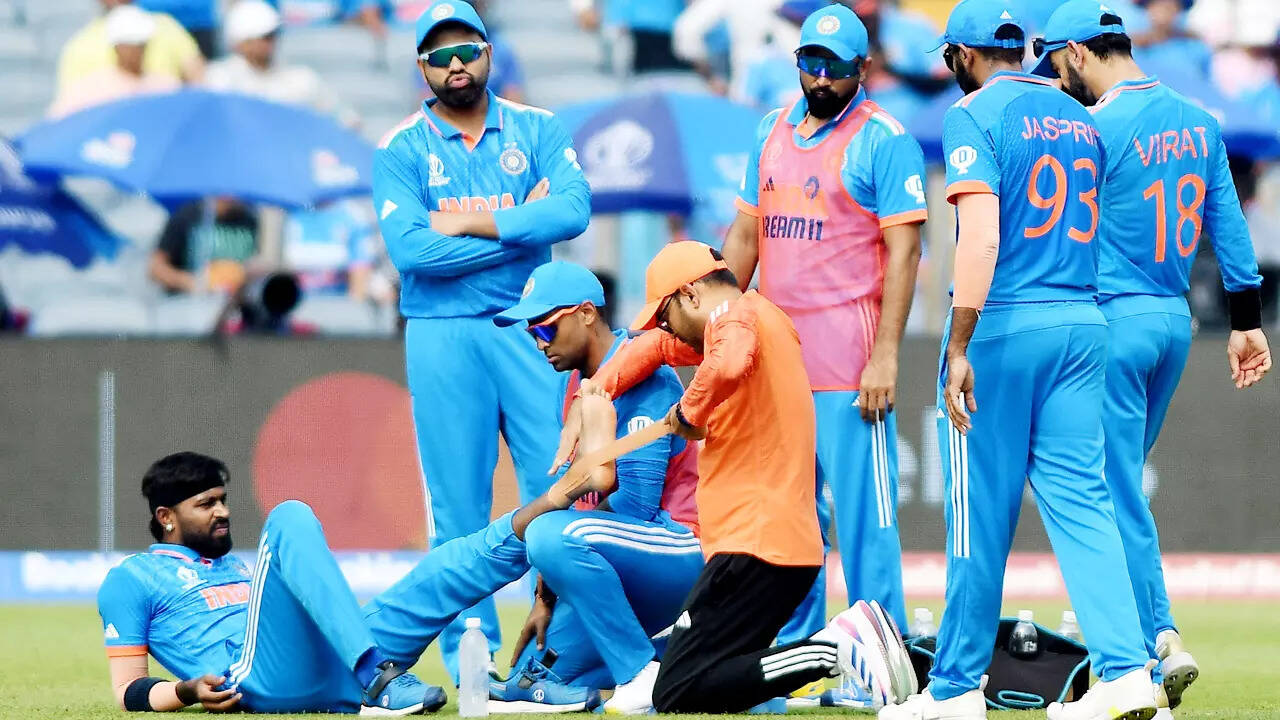 NEW DELHI: India captain Rohit Sharma said star all-rounder Hardik Pandya has not suffered any major injury but was non-committal on his participation in the next game on Sunday against New Zealand in Dharamsala.
In a major injury scare for India, who registered a crushing seven-wicket win over Bangladesh, allrounder Pandya hobbled off the field after twisting his ankle while bowling his first over in a World Cup match against Bangladesh on Thursday.
AS IT HAPPENED: IND vs BAN
Pandya suffered the injury during the third delivery of the ninth over when he attempted to stop a straight drive from Bangladesh opener Litton Das with his right foot in his follow-through. He twisted his left ankle as the ball passed under his leg and he stumbled to the ground.
ICC World Cup: Major injury scare for India as Hardik Pandya limps off the field after bowling three balls
Pandya hobbled off the field and did not take part in the remainder of the match and later went for scans.
"He (Hardik Pandya) pulled up a bit sore, but nothing really major to worry. We'll see how he pulls up tomorrow morning and then plan on how to go forward. Everyone in the squad has gone through pressure, the crowd is coming in big numbers, the stands are full, they haven't disappointed us, they've been brilliant and I'm sure they'll be louder and louder as we move on," Rohit said after the match.
Pandya could bowl only 0.3 overs. Virat Kohli, bowling in an ODI for the first time in six years, completed Pandya's over.
Victory against Bangladesh was India's fourth win in a row in the ongoing World Cup.
India and New Zealand are the only two unbeaten teams in the World Cup. They have four wins each.
"It was a good win, something we were looking forward to. We didn't start well, but the guys pulled it back in the middle-overs and at the back end. Our fielding has been superb in all these matches, it's something that's in your control, and you can put in your best effort. The bowlers were smart to understand what lengths to bowl," Rohit said.