ODI World Cup: Angelo Mathews, Dushmantha Chameera to join Sri Lankan squad as travelling reserves | Cricket News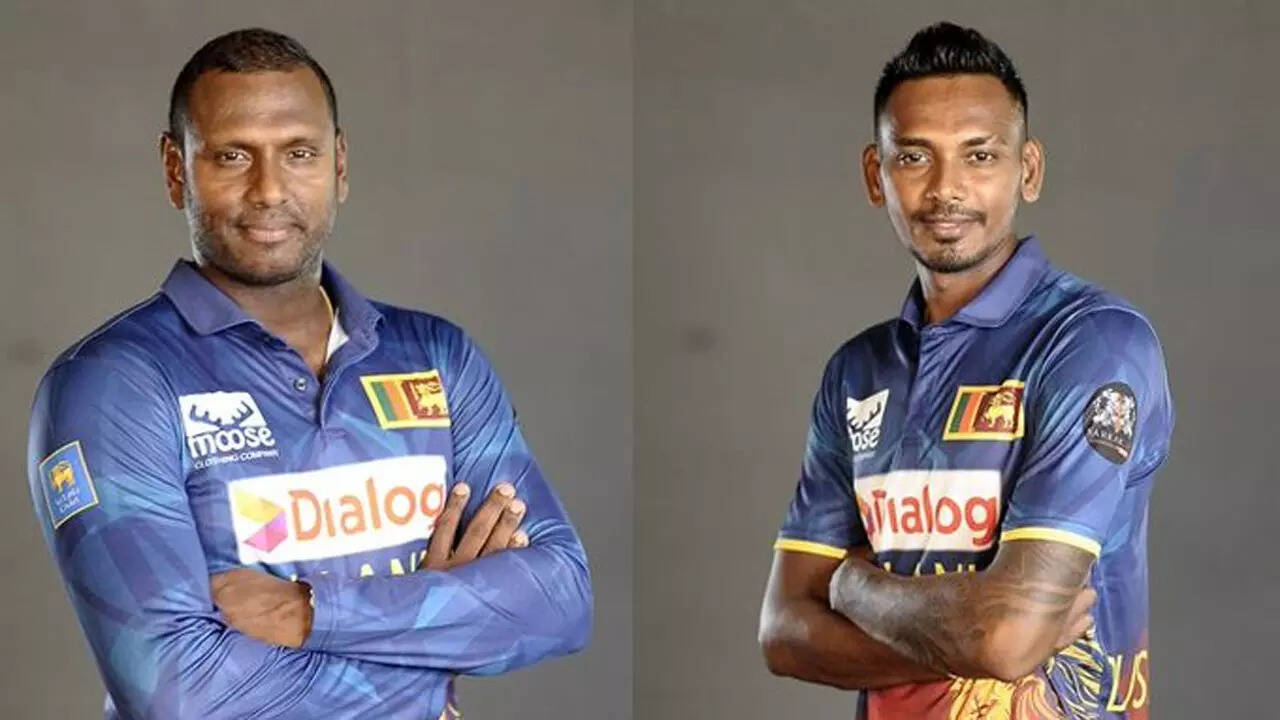 NEW DELHI: Sri Lanka's cricket board has announced that the veteran all-rounder Angelo Mathews and pacer Dushmantha Chameera will be added to the World Cup squad as traveling reserves, and they are expected to join the team in Lucknow on Friday.
Both Mathews and Chameera were last seen in action during an ODI series against Afghanistan in June. Mathews, aged 36, boasts an impressive record of 221 games, with nearly 6000 runs and 120 wickets to his name. Recently, he has primarily focused on his batting and plays as a specialist batter.
On the other hand, the 31-year-old right-arm pacer, Chameera, has represented his country in 44 ODIs, where he has taken 50 wickets.
"Sri Lanka Cricket wishes to announce that Angelo Mathews and Dushmantha Chameera will join the team in India as traveling reserves," SLC posted on X.
"The Sri Lanka Cricket Selectors took this decision in order to ensure that the team has ready replacements in place to face contingencies, such as an injury to an existing squad member. Accordingly @Angelo69Mathews and @dushmantha05 will join the team tomorrow," the board announced.
Sri Lanka next play is the Netherlands on October 21 in Lucknow.
(With PTI inputs)
(function(f, b, e, v, n, t, s) if (f.fbq) return; n = f.fbq = function() n.callMethod ? n.callMethod(...arguments) : n.queue.push(arguments); ; if (!f._fbq) f._fbq = n; n.push = n; n.loaded = !0; n.version = '2.0'; n.queue = []; t = b.createElement(e); t.async = !0; t.defer = !0; t.src = v; s = b.getElementsByTagName(e)[0]; s.parentNode.insertBefore(t, s); )(f, b, e, 'https://connect.facebook.net/en_US/fbevents.js', n, t, s); fbq('init', '593671331875494'); fbq('track', 'PageView'); ;
function loadGtagEvents(isGoogleCampaignActive) if (!isGoogleCampaignActive) return;
var id = document.getElementById('toi-plus-google-campaign'); if (id) return;
(function(f, b, e, v, n, t, s) t = b.createElement(e); t.async = !0; t.defer = !0; t.src = v; t.id = 'toi-plus-google-campaign'; s = b.getElementsByTagName(e)[0]; s.parentNode.insertBefore(t, s); )(f, b, e, 'https://www.googletagmanager.com/gtag/js?id=AW-877820074', n, t, s); ;
function loadSurvicateJs(isSurvicateActive) if(!isSurvicateActive) return;
(function(w) var s = document.createElement('script'); s.src="https://survey.survicate.com/workspaces/0be6ae9845d14a7c8ff08a7a00bd9b21/web_surveys.js"; s.async = true; var e = document.getElementsByTagName('script')[0]; e.parentNode.insertBefore(s, e); )(window);
window.TimesApps = window.TimesApps || ; var TimesApps = window.TimesApps; TimesApps.toiPlusEvents = function(config) var isConfigAvailable = "toiplus_site_settings" in f && "isFBCampaignActive" in f.toiplus_site_settings && "isGoogleCampaignActive" in f.toiplus_site_settings; var isPrimeUser = window.isPrime; if (isConfigAvailable && !isPrimeUser) loadGtagEvents(f.toiplus_site_settings.isGoogleCampaignActive); loadFBEvents(f.toiplus_site_settings.isFBCampaignActive); loadSurvicateJs(f.toiplus_site_settings.isSurvicateActive); else var JarvisUrl="https://jarvis.indiatimes.com/v1/feeds/toi_plus/site_settings/643526e21443833f0c454615?db_env=published"; window.getFromClient(JarvisUrl, function(config) if (config) loadGtagEvents(config?.isGoogleCampaignActive); loadFBEvents(config?.isFBCampaignActive); loadSurvicateJs(config?.isSurvicateActive);
)
; })( window, document, 'script', );
#ODI #World #Cup #Angelo #Mathews #Dushmantha #Chameera #join #Sri #Lankan #squad #travelling #reserves #Cricket #News