Ganapath – A Hero Is Born Review 2.5/5 & Review Rating
GANAPATH – A HERO IS BORN is the story of a man who is meant for greatness. The year is 2070. Due to a major war, the poor have become poorer. They live in a settlement where the rich control the food and water supply. The rich, meanwhile, reside in the luxurious Silver City. A mysterious man named Dalini rules this territory. His trusted aide, John (Ziad Baki), conducts boxing matches and earns money through the bets placed by the uber-rich. Guddu (Tiger Shroff) works for John along with his uncle Kaizad (Jameel Khan) and Senior (Girish Kulkarni). The latter detests Guddu. One day, John asks Guddu to take his girlfriend Rosie (Elli AvrRam) out to a nightclub while he's busy in a meeting. Rosie gets physical with Guddu. John catches them red-handed and buries them alive. Miraculously, Guddu survives. Kaizad asks him to move away to a settlement of poor people up in the hills and meet Shiva (Rahman). Once he meets Shiva, Guddu is supposed to tell him 'Ganapath is here'. Guddu does as instructed. He meets Shiva and his close confidante, Jassi (Kriti Sanon). Shiva is blind while Jassi is tough and fights quite well. Unknown to Guddu, he is Ganapath or the saviour of the poor, as predicted by a revered man (Amitabh Bachchan). But while Guddu is good at analysing fighters and their strengths and weaknesses, he's not a fighter himself. Shiva and Jassi decide to train him. What happens next forms the rest of the film.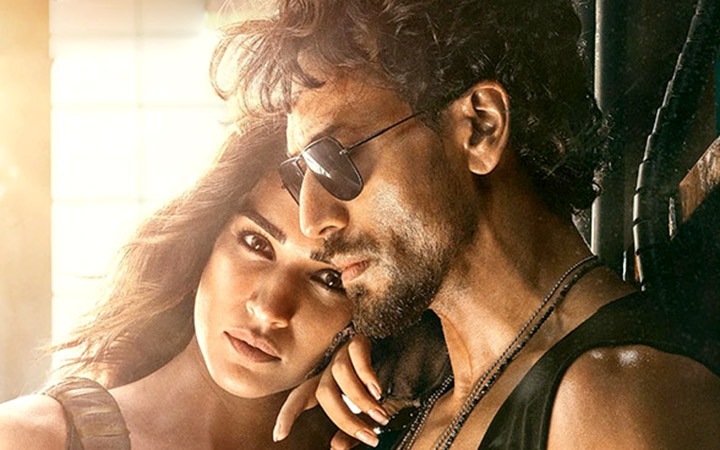 Vikas Bahl's story is clichéd and gives a déjà vu of CHANDNI CHOWK TO CHINA [2009]. Vikas Bahl's screenplay is unexciting. A few scenes are well thought of but they give a been-there-done-that feeling. Vikas Bahl's dialogues are just fine.
Vikas Bahl's direction is not up to the mark. To give credit its due, he has handled a few dramatic moments well. Guddu's transformation also makes for a nice watch. The fight at the intermission point is worth it. The lead actors have also been presented stylishly.
Sadly, the film is riddled with shortcomings. The futuristic element could have been the USP but the makers fail to do justice to it. The poor VFX further messes things up in this regard. For a film about one man fighting the system, it's mandatory that the audience should be moved by the plight of the have-nots and be wowed by the protagonist's heroism. Both these factors are missing. Moreover, the twist in the climax is very predictable. One can guess it from a mile away.
Speaking of performances, Tiger Shroff has never looked so dashing. His performance is quite good. Kriti Sanon gives a sizzling performance. She looks convincing while doing action. Amitabh Bachchan is hardly there and is fine. Ziad Baki is decent. Jameel Khan and Girish Kulkarni are dependable. Rahman is the surprise of the film. Elli AvrRam looks hot but is wasted. Jess Liaudin (Tabahi) is over the top. Shruthy Menon (Shaina) is fine.
Ganapath Official Hindi Trailer | Amitabh Bachchan, Tiger Shroff, Kriti Sanon
Songs are well-woven into the narrative. 'Sara Zamana' manages to register to an extent followed by 'Jai Ganesha', 'Hum Aaye Hain', 'Lafda Kar De' and 'Time 2 Shine'. Salim-Sulaiman's background score is passable.
Sudhakar Reddy Yakkanti's cinematography is neat. Amit Ray & Subrata Chakrobarty's production design is unimaginative. Aki Narula, Sukriti Grover and Akangshe Chopra's costumes are quite cool, especially the ones worn by Tiger and Kriti. Tim Man and Vikram Dahiya's action is entertaining and not at all gory. After Studio, Number 9 VFX and Maadfam Studios' VFX is tacky. Ritesh Soni's editing is appropriate.
On the whole, GANAPATH – A HERO IS BORN fails to impress due to a clichéd storyline, poor VFX and predictable second half. At the box office, the limited buzz and huge costs will prove detrimental.
#GANAPATH #HERO #BORN #fails #impress