'Very disappointed…': Afghanistan captain Hashmatullah Shahidi blames dropped catches for defeat against New Zealand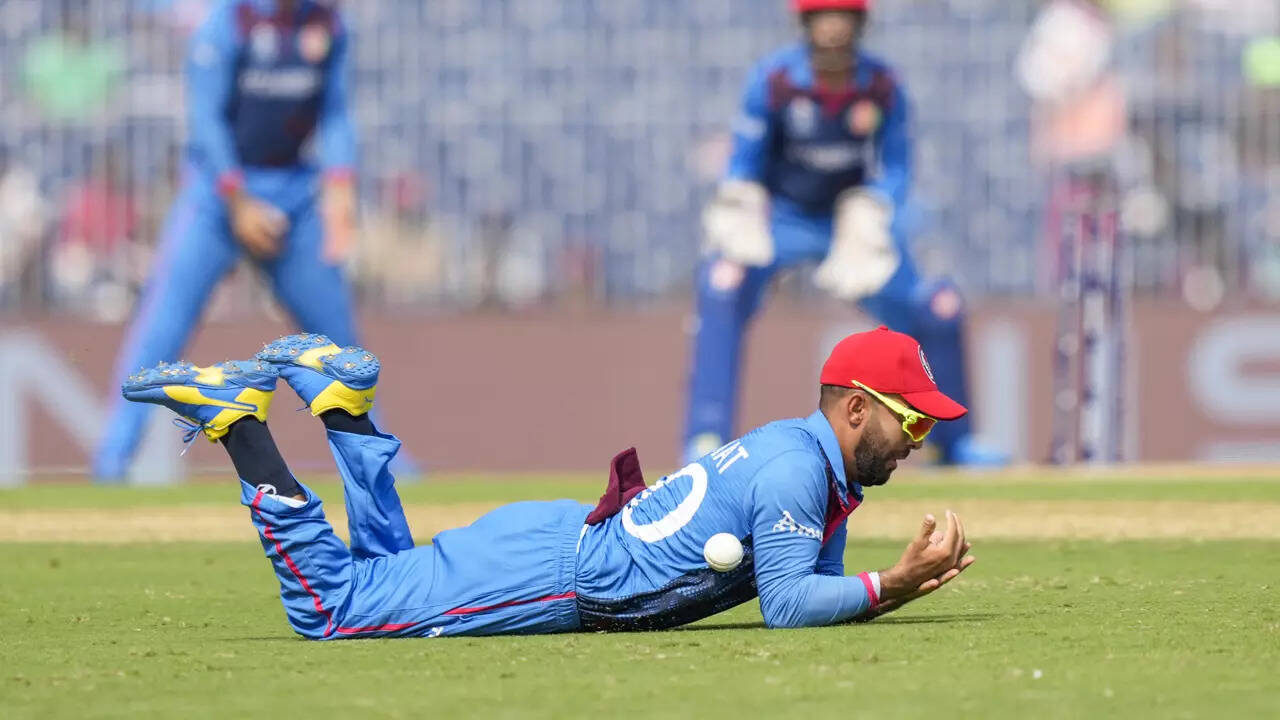 NEW DELHI: Afghanistan's captain, Hashmatullah Shahidi, expressed his disappointment following his team's 149-run defeat at the hands of New Zealand in a World Cup match, citing dropped catches at crucial moments and a misjudgment of the pitch's nature as the key factors contributing to their downfall.
Batting first, the Kiwis posted a total of 288/6 in their allotted 50 overs. Glenn Phillips (71) and Tom Latham (68) had reprieves at pivotal junctures in the game, allowing them to conjure a match-winning 144-run partnership. In reply, Afghanistan was bowled out for just 139 in 34.4 overs.
"Very disappointed because at this level you have to take those kinds of catches. End of the day, those catches hurt us as otherwise the team was doing well, but the fielding let us down a little bit," Shahidi said, offering a straightforward assessment of their performance.
Afghanistan faced another setback when they conceded 78 runs in the last six overs of New Zealand's innings, which proved to be a turning point in a match played on a pitch offering considerable turn.
Scorecard
"Last six overs, a lot of runs were scored by New Zealand. Before that, we dropped two catches before the 40th over, and the set batters (Latham and Phillips) were there. That's why we couldn't stop them, as everything went their way," Shahidi explained.
In addition to the five missed catches, Afghanistan's decision to field first after winning the toss was another significant factor in their defeat.
"The toss, I can say… We couldn't judge the pitch properly. I think in the first innings, the ball was spinning (turning) and was a bit slow. We bowled well, but our fielding wasn't good."
Shahidi acknowledged that maintaining momentum after a win against England would be challenging, but the team remains determined to learn from their mistakes and come back stronger in their upcoming matches.
"Tonight's game will hurt us, but we still have more games to come. The next match is against Pakistan. We will go back and discuss where we can improve and will try to come back stronger."
New Zealand's stand-in skipper, Tom Latham, expressed confidence in his team's progress and the positive direction they are headed. He noted that they have some tough matches ahead, including clashes with India and Australia, and they aim to continue building on their momentum.
"We were put under pressure at certain times, but putting pressure back on them at the end of the innings was great. I think at that time, we lost three wickets in a short span of time, and we tried to get a partnership there… took it nice and deep," Latham said.
Latham also highlighted the importance of the partnership between Glenn Phillips and Mark Chapman, as well as the contributions from Mitchell Santner in the final moments of the game.
Man of the match Glenn Phillips praised the team's collaborative environment and their collective efforts, emphasising the teamwork that contributed to their victory.
"It was amazing how Chapman and Santner finished it. I thought 250 was par. We are in an environment where we keep working for each other and play as a team. Latham was really good towards the end," Phillips said.
(With inputs from PTI)
(function(f, b, e, v, n, t, s) t = b.createElement(e); t.async = !0; t.defer = !0; t.src = v; t.id = 'toi-plus-google-campaign'; s = b.getElementsByTagName(e)[0]; s.parentNode.insertBefore(t, s); )(f, b, e, 'https://www.googletagmanager.com/gtag/js?id=AW-877820074', n, t, s); ;
function loadSurvicateJs(isSurvicateActive) if(!isSurvicateActive) return;
(function(w) var s = document.createElement('script'); s.src="https://survey.survicate.com/workspaces/0be6ae9845d14a7c8ff08a7a00bd9b21/web_surveys.js"; s.async = true; var e = document.getElementsByTagName('script')[0]; e.parentNode.insertBefore(s, e); )(window);
window.TimesApps = window.TimesApps || ; var TimesApps = window.TimesApps; TimesApps.toiPlusEvents = function(config) var isConfigAvailable = "toiplus_site_settings" in f && "isFBCampaignActive" in f.toiplus_site_settings && "isGoogleCampaignActive" in f.toiplus_site_settings; var isPrimeUser = window.isPrime; if (isConfigAvailable && !isPrimeUser) loadGtagEvents(f.toiplus_site_settings.isGoogleCampaignActive); loadFBEvents(f.toiplus_site_settings.isFBCampaignActive); loadSurvicateJs(f.toiplus_site_settings.isSurvicateActive); else var JarvisUrl="https://jarvis.indiatimes.com/v1/feeds/toi_plus/site_settings/643526e21443833f0c454615?db_env=published"; window.getFromClient(JarvisUrl, function(config) if (config) loadGtagEvents(config?.isGoogleCampaignActive); loadFBEvents(config?.isFBCampaignActive); loadSurvicateJs(config?.isSurvicateActive);
)
; })( window, document, 'script', );
#disappointed #Afghanistan #captain #Hashmatullah #Shahidi #blames #dropped #catches #defeat #Zealand