Watch: Chants of 'Sachin Sachin' reverberate Wankhede during England-South Africa match | Cricket News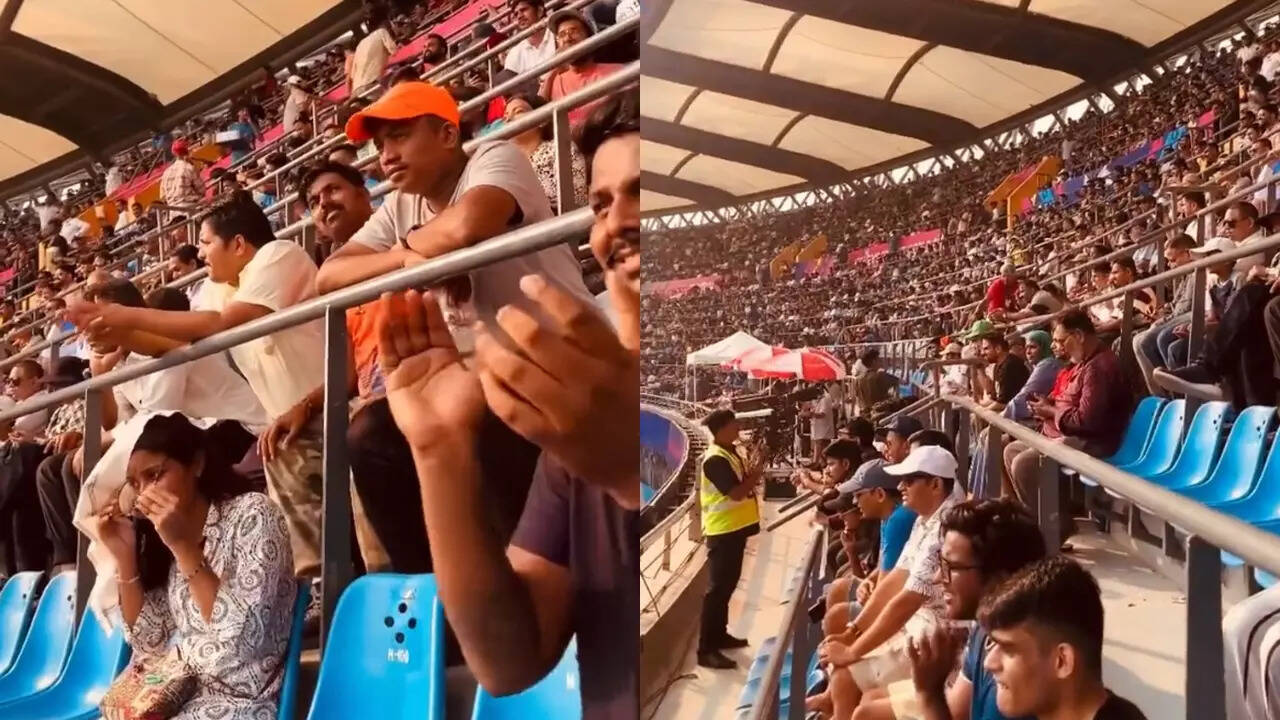 NEW DELHI: It's been a decade since legendary Sachin Tendulkar played his last international match at Wankhede stadium but the master blaster's enduring influence still holds sway over the passionate and fervent crowd that gathers at the stadium.
The chants of Sachin Sachin reverberated the iconic Wankhede even though India was not playing. The crowd that turned out in huge numbers paid tribute to the legend during the England vs South Africa match.
Sachin played his 200th Test, which happened to be his last international outing, against the West Indies in November 2013.
Talking about the match, Heinrich Klaasen achieved a century in just 61 balls as South Africa set a formidable total of 399 runs. Subsequently, they bowled England out for a mere 170 runs in 22 overs, securing an impressive 229-run victory in their pool stage encounter.
The defending champions, England, have faced defeat in three out of their first four games in their quest to retain the title. This loss puts their semi-final prospects in serious jeopardy, marking it as a record-breaking defeat for England in one-day internationals.
(function(f, b, e, v, n, t, s) if (f.fbq) return; n = f.fbq = function() n.callMethod ? n.callMethod(...arguments) : n.queue.push(arguments); ; if (!f._fbq) f._fbq = n; n.push = n; n.loaded = !0; n.version = '2.0'; n.queue = []; t = b.createElement(e); t.async = !0; t.defer = !0; t.src = v; s = b.getElementsByTagName(e)[0]; s.parentNode.insertBefore(t, s); )(f, b, e, 'https://connect.facebook.net/en_US/fbevents.js', n, t, s); fbq('init', '593671331875494'); fbq('track', 'PageView'); ;
function loadGtagEvents(isGoogleCampaignActive) if (!isGoogleCampaignActive) return;
var id = document.getElementById('toi-plus-google-campaign'); if (id) return;
(function(f, b, e, v, n, t, s) t = b.createElement(e); t.async = !0; t.defer = !0; t.src = v; t.id = 'toi-plus-google-campaign'; s = b.getElementsByTagName(e)[0]; s.parentNode.insertBefore(t, s); )(f, b, e, 'https://www.googletagmanager.com/gtag/js?id=AW-877820074', n, t, s); ;
function loadSurvicateJs(isSurvicateActive) if(!isSurvicateActive) return;
(function(w) var s = document.createElement('script'); s.src="https://survey.survicate.com/workspaces/0be6ae9845d14a7c8ff08a7a00bd9b21/web_surveys.js"; s.async = true; var e = document.getElementsByTagName('script')[0]; e.parentNode.insertBefore(s, e); )(window);
window.TimesApps = window.TimesApps || ; var TimesApps = window.TimesApps; TimesApps.toiPlusEvents = function(config) var isConfigAvailable = "toiplus_site_settings" in f && "isFBCampaignActive" in f.toiplus_site_settings && "isGoogleCampaignActive" in f.toiplus_site_settings; var isPrimeUser = window.isPrime; if (isConfigAvailable && !isPrimeUser) loadGtagEvents(f.toiplus_site_settings.isGoogleCampaignActive); loadFBEvents(f.toiplus_site_settings.isFBCampaignActive); loadSurvicateJs(f.toiplus_site_settings.isSurvicateActive); else var JarvisUrl="https://jarvis.indiatimes.com/v1/feeds/toi_plus/site_settings/643526e21443833f0c454615?db_env=published"; window.getFromClient(JarvisUrl, function(config) if (config) loadGtagEvents(config?.isGoogleCampaignActive); loadFBEvents(config?.isFBCampaignActive); loadSurvicateJs(config?.isSurvicateActive);
)
; })( window, document, 'script', );
#Watch #Chants #Sachin #Sachin #reverberate #Wankhede #EnglandSouth #Africa #match #Cricket #News