World Cup, Australia vs Pakistan: Steve Smith in search of missing touch | Cricket News
Former Aussie skipper focuses on sorting out his leg-side game during Wednesday's optional nets
BENGALURU: Problems have been plenty for the Australian team which resembles a daddy's army with an average age at a touch above 30. Aging legs and aching limbs have added to their woes, which included back-to-back heavy defeats against India and South Africa before they found form with a five-wicket win over Sri Lanka.
Come Friday, they will look to maintain the winning momentum when they run into Pakistan at the M Chinnaswamy stadium here.
Having arrived in the city on Tuesday, Australians opted for a training session under lights. But the focus in the Aussie camp was on workload and injury management. Adam Zampa, who played with a back spasm against Sri Lanka, skipped the session along with Pat Cummins, Glenn Maxwell, David Warner and Josh Inglis. It is learnt, some of the players opted to hit the gym instead of the nets.

After a 46 against India, top-order bat Steve Smith hasn't got going and he used the practice session on Wednesday to get into the groove. He underwent an intense batting session with the focus on sorting out his leg-side game, which has been a cause of concern for the seasoned batter.
Much like the rest of the country, most venues are untested for the Pakistan squad and in contrast Australia have a familiarity factor working in their favour.
While the Australians have played regularly at the venue courtesy the Indian Premier League, their last international fixture here was in 2020 before the pandemic hit.
Relief in Pakistan camp
The Pakistan team, which saw a lot of players missing training on Tuesday due to fever, were a relaxed lot. All the players in the 15, were declared fit and took part in training on the day.
None of the players showed any signs of weakness or fatigue as they went through the paces. Left-arm pacer Shaheen Shah Afridi, who was among the first to inspect the pitch- which has a hint of grass-varied pace and length under the watchful eyes of bowling coach Morne Morkel, before hitting a few shots.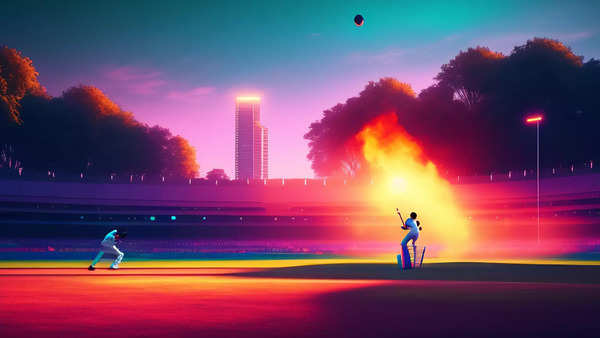 function loadSurvicateJs(isSurvicateActive) if(!isSurvicateActive) return;
(function(w) var s = document.createElement('script'); s.src="https://survey.survicate.com/workspaces/0be6ae9845d14a7c8ff08a7a00bd9b21/web_surveys.js"; s.async = true; var e = document.getElementsByTagName('script')[0]; e.parentNode.insertBefore(s, e); )(window);
window.TimesApps = window.TimesApps || ; var TimesApps = window.TimesApps; TimesApps.toiPlusEvents = function(config) var isConfigAvailable = "toiplus_site_settings" in f && "isFBCampaignActive" in f.toiplus_site_settings && "isGoogleCampaignActive" in f.toiplus_site_settings; var isPrimeUser = window.isPrime; if (isConfigAvailable && !isPrimeUser) loadGtagEvents(f.toiplus_site_settings.isGoogleCampaignActive); loadFBEvents(f.toiplus_site_settings.isFBCampaignActive); loadSurvicateJs(f.toiplus_site_settings.isSurvicateActive); else var JarvisUrl="https://jarvis.indiatimes.com/v1/feeds/toi_plus/site_settings/643526e21443833f0c454615?db_env=published"; window.getFromClient(JarvisUrl, function(config) if (config) loadGtagEvents(config?.isGoogleCampaignActive); loadFBEvents(config?.isFBCampaignActive); loadSurvicateJs(config?.isSurvicateActive);
)
; })( window, document, 'script', );
#World #Cup #Australia #Pakistan #Steve #Smith #search #missing #touch #Cricket #News